Map of Vanuatu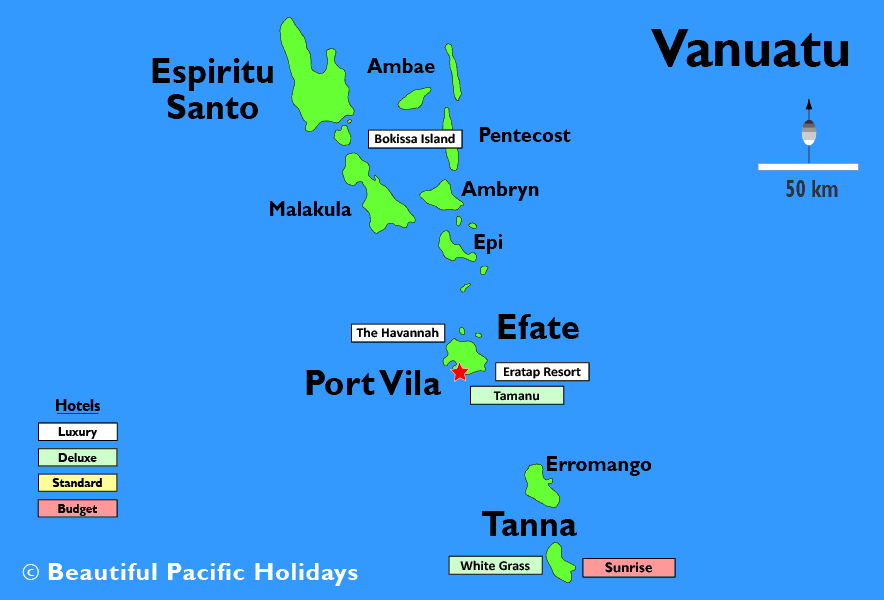 Vanuatu, officially the Republic of Vanuatu, is a Pacific island nation located in the South Pacific Ocean. The archipelago, which is of volcanic origin, is some 1,750 kilometres (1,090 mi) east of northern Australia, 540 kilometres (340 mi) northeast of New Caledonia, east of New Guinea, southeast of the Solomon Islands, and west of Fiji.
Vanuatu was first inhabited by Melanesian people. The first Europeans to visit the islands were a Spanish expedition led by Portuguese navigator Fernandes de Queirós, who arrived on the largest island in 1606. As the Portuguese and Spanish monarchies had been unified under the king of Spain in 1580 (following the vacancy of the Portuguese throne, which lasted for sixty years, until 1640, when the Portuguese monarchy was restored), Queirós claimed the archipelago for Spain, as part of the colonial Spanish East Indies, and named it La Austrialia del Espíritu Santo.
In the 1880s, France and the United Kingdom claimed parts of the archipelago, and in 1906 they agreed on a framework for jointly managing the archipelago as the New Hebrides through an Anglo–French Condominium. An independence movement arose in the 1970s, and the Republic of Vanuatu was founded in 1980.
Population: 264,652 (2015)
Currency
The Ni-Vanuatu Vatu is the currency of Vanuatu. Our currency rankings show that the most popular Vanuatu Vatu exchange rate is the AUD to VUV rate. The currency code for Vatu is VUV, and the currency symbol is VT.

Languages
The national language of the Republic of Vanuatu is Bislama. The official languages are Bislama, French and English. The principal languages of education are French and English. The use of English or French as the formal language is split along political lines.
Bislama is a pidgin language, and now a creole in urban areas. Essentially combining a typically Melanesian grammar with a mostly English vocabulary, Bislama is the only language that can be understood and spoken by the majority of the population, as a second language.
In addition, 113 indigenous languages are still actively spoken in Vanuatu. The density of languages, per capita, is the highest of any nation in the world with an average of only 2,000 speakers per language. All vernacular languages of Vanuatu (i.e., excluding Bislama) belong to the Oceanic branch of the Austronesian family.
In recent years, the use of Bislama as a first language has considerably encroached on indigenous languages, whose use in the population has receded from 73.1 to 63.2 percent between 1999 and 2009.
History
The prehistory of Vanuatu is obscure; archaeological evidence supports the theory that people speaking Austronesian languages first came to the islands about 3,300 years ago. Pottery fragments have been found dating to 1300–1100 BC.
The Vanuatu group of islands first had contact with Europeans in 1606, when the Portuguese explorer Pedro Fernandes de Queirós, sailing for the Spanish Crown, arrived on the largest island and called the group of islands La Austrialia del Espiritu Santo or "The Southern Land of the Holy Spirit", believing he had arrived in Terra Australis or Australia. The Spanish established a short-lived settlement at Big Bay on the north side of the island. The name Espiritu Santo remains to this day.
Europeans did not return until 1768, when Louis Antoine de Bougainville rediscovered the islands. In 1774, Captain Cook named the islands the New Hebrides, a name that would last until independence in 1980.
In 1825, the trader Peter Dillon's discovery of sandalwood on the island of Erromango began a rush of immigrants that ended in 1830 after a clash between immigrant Polynesian workers and indigenous Melanesians. During the 1860s, planters in Australia, Fiji, New Caledonia, and the Samoa Islands, in need of labourers, encouraged a long-term indentured labour trade called "blackbirding". At the height of the labour trade, more than one-half the adult male population of several of the islands worked abroad. Fragmentary evidence indicates that the current population of Vanuatu is greatly reduced compared to pre-contact times.
In the 19th century, Catholic and Protestant missionaries from Europe and North America went to the islands to work with the people. For example, John Geddie, a Scots-Canadian Presbyterian missionary, arrived at the island of Aneityum in 1848; he spent the rest of his life there, working to convert the inhabitants to Christianity and western ways. John Gibson Paton was a Scottish missionary who devoted his life to the region.
Settlers came looking for land on which to establish cotton plantations. When international cotton prices collapsed, planters switched to coffee, cocoa, bananas, and, most successfully, coconuts. Initially, British subjects from Australia made up the majority of settlers, but the establishment of the Caledonian Company of the New Hebrides in 1882 attracted more French subjects. By the start of the 20th century, the French outnumbered the British two to one.
The jumbling of French and British interests in the islands brought petitions for one or another of the two powers to annex the territory. In 1906, France and the United Kingdom agreed to administer the islands jointly. Called the Anglo-French Condominium, it was a unique form of government. The separate governmental systems came together only in a joint court. Melanesians were barred from acquiring the citizenship of either power.
Challenges to this form of government began in the early 1940s. The arrival of Americans during the Second World War, with their informal habits and relative wealth, contributed to the rise of nationalism in the islands. The belief in a mythical messianic figure named John Frum was the basis for an indigenous cargo cult (a movement attempting to obtain industrial goods through magic) promising Melanesian deliverance. Today, John Frum is both a religion and a political party with a member in Parliament.
The first political party, established in the early 1970s, was called the New Hebrides National Party. One of the founders was Father Walter Lini, who later became Prime Minister. Renamed the Vanua'aku Pati in 1974, the party pushed for independence, which was gained amidst the brief Coconut War.
The independent Republic of Vanuatu was established in 1980.
During the 1990s, Vanuatu experienced a period of political instability which resulted in a more decentralised government. The Vanuatu Mobile Force, a paramilitary group, attempted a coup in 1996 because of a pay dispute. There were allegations of corruption in the government of Maxime Carlot Korman. New elections have been called for several times since 1997, most recently in 2004.
Geography
Vanuatu is a Y-shaped archipelago consisting of about 82 relatively small, geologically newer islands of volcanic origin (65 of them inhabited), with about 1,300 kilometres (810 mi) between the most northern and southern islands.Two of these islands (Matthew and Hunter) are also claimed and controlled by France as part of the French collectivity of New Caledonia. The country lies between latitudes 13° and 21°S and longitudes 166° and 171°E.
The fourteen of Vanuatu's islands that have surface areas of more than 100 square kilometres (39 sq mi) are, from largest to smallest: Espiritu Santo, Malakula, Efate, Erromango, Ambrym, Tanna, Pentecost, Epi, Ambae or Aoba, Gaua, Vanua Lava, Maewo, Malo and Aneityum or Anatom. The nation's largest towns are the capital Port Vila, on Efate, and Luganville on Espiritu Santo. The highest point in Vanuatu is Mount Tabwemasana, at 1,879 metres (6,165 ft), on the island of Espiritu Santo.
Vanuatu's total area is roughly 12,274 square kilometres (4,739 sq mi),of which its land surface is very limited (roughly 4,700 square kilometres (1,800 sq mi)). Most of the islands are steep, with unstable soils and little permanent fresh water. One estimate, made in 2005, is that only 9% of land is used for agriculture (7% with permanent crops, plus 2% considered arable). The shoreline is mostly rocky with fringing reefs and no continental shelf, dropping rapidly into the ocean depths.
There are several active volcanoes in Vanuatu, including Lopevi, Mount Yasur and several underwater volcanoes. Volcanic activity is common, with an ever-present danger of a major eruption; a nearby undersea eruption of 6.4 magnitude occurred in November 2008 with no casualties, and an eruption occurred in 1945. Vanuatu is recognised as a distinct terrestrial ecoregion, known as the Vanuatu rain forests. It is part of the Australasia ecozone, which includes New Caledonia, the Solomon Islands, Australia, New Guinea and New Zealand.
Vanuatu's population (estimated in 2008 as growing 2.4% annually) is placing increasing pressure on land and resources for agriculture, grazing, hunting, and fishing. Some 90% of Vanuatu households fish and consume fish, which has caused intense fishing pressure near villages and the depletion of near-shore fish species. While well-vegetated, most islands show signs of deforestation. The islands have been logged, particularly of high-value timber, subjected to wide-scale slash-and-burn agriculture, and converted to coconut plantations and cattle ranches, and now show evidence of increased soil erosion and landslides.
Many upland watersheds are being deforested and degraded, and fresh water is becoming increasingly scarce. Proper waste disposal, as well as water and air pollution, are becoming troublesome issues around urban areas and large villages. Additionally, the lack of employment opportunities in industry and inaccessibility to markets have combined to lock rural families into a subsistence or self-reliance mode, putting tremendous pressure on local ecosystems.
Flora and fauna
Despite its tropical forests, Vanuatu has a limited number of plant and animal species. It has an indigenous flying fox, Pteropus anetianus. Flying foxes are important rainforest and timber regenerators. They pollinate and seed disperse a wide variety of native trees. Their diet is nectar, pollen and fruit and they are commonly called "fruit bats". They are in decline across their South Pacific range. However, governments are increasingly aware of the economic and ecological value of flying foxes and there are calls to increase their protection. There are no indigenous large mammals. The nineteen species of native reptiles include the flowerpot snake, found only on Efate. The Fiji banded iguana (Brachylophus fasciatus) was introduced as a feral animal in the 1960s. There are eleven species of bats (three unique to Vanuatu) and sixty-one species of land and water birds. While the small Polynesian rat is thought to be indigenous, the large species arrived with Europeans, as did domesticated hogs, dogs, and cattle. The ant species of some of the islands of Vanuatu were catalogued by E. O. Wilson.
The region is rich in sea life, with more than 4,000 species of marine molluscs and a large diversity of marine fishes. Coneshell and stonefish carry poison fatal to humans. The Giant East African land snail arrived only in the 1970s, but already has spread from the Port-Vila region to Luganville.
There are three or possibly four adult saltwater crocodiles living in Vanuatu's mangroves and no current breeding population. It is said the crocodiles reached the northern part of the islands after cyclones, given the island chain's proximity to the Solomon Islands and New Guinea where crocodiles are very common.
Climate
The climate is tropical, with about nine months of warm to hot rainy weather and the possibility of cyclones and three to four months of cooler, drier weather characterised by winds from the southeast.The water temperature ranges from 22 °C (72 °F) in winter to 28 °C (82 °F) in the summer. Cool between April and September, the days become hotter and more humid starting in October. The daily temperature ranges from 20 to 32 °C (68 to 90 °F). South easterly trade winds occur from May to October.
Vanuatu has a long rainy season, with significant rainfall almost every month. The wettest and hottest months are December through April, which also constitute the cyclone season.The driest months are June through November. Rainfall averages about 2,360 millimetres (93 in) per year but can be as high as 4,000 millimetres (160 in) in the northern islands. In 2015, the United Nations University gave Vanuatu the highest natural disaster risk of all the countries it measured.
Religion
Christianity is the predominant religion in Vanuatu, consisting of several denominations. The Presbyterian Church in Vanuatu, adhered to by about one-third of the population, is the largest of them. Roman Catholic and Anglican are other common denominations, each claiming about 15% of the population. The less singificant groups are the Seventh-day Adventist Church, the Church of Christ, Neil Thomas Ministries (NTM), Jehovah's Witnesses, and others. In 2007, Islam in Vanuatu was estimated to consist of about 200 converts.
Because of the modern goods that the military in the Second World War brought with them when they came to the islands, several cargo cults developed. Many died out, but the John Frum cult on Tanna is still large, and has adherents in the parliament. Also on Tanna is the Prince Philip Movement, which reveres the United Kingdom's Prince Philip. Villagers of the Yaohnanen tribe believed in an ancient story about the pale-skinned son of a mountain spirit venturing across the seas to look for a powerful woman to marry. Prince Philip, having visited the island with his new wife Queen Elizabeth, fitted the description exactly and is therefore revered as a god around the isle of Tanna.
Health
Vanuatu has a tropical climate and over 80% of the population lives in rural, isolated villages with access to their own gardens and food supplies.
The geographically-isolated communities have minimal access to basic health and education services. Churches and non-government organisations provide a minimal level of support to many rural villages. Vanuatu government health and education services are hard pressed to deal with the rapid increase of urban and peri-urban populations in informal and squatter settlements around Port Vila and to a lesser extent in Luganville. Health services in Port Vila and Luganville provide reasonable health care, often supported and enhanced by visiting doctors.
Official statistics show infant mortality declined during the last half of the twentieth century, from 123 deaths per 1,000 population in 1967 to 25 per 1,000 in 1999. There were 46.85 infant deaths per 1,000 live births in 2011.
Culture
Vanuatu culture retains a strong diversity through local regional variations and through foreign influence. Vanuatu may be divided into three major cultural regions. In the north, wealth is established by how much one can give away, through a grade-taking system. Pigs, particularly those with rounded tusks, are considered a symbol of wealth throughout Vanuatu. In the centre, more traditional Melanesian cultural systems dominate. In the south, a system involving grants of title with associated privileges has developed.
Young men undergo various coming-of-age ceremonies and rituals to initiate them into manhood, usually including circumcision.
Most villages have a nakamal or village clubhouse which serves as a meeting point for men and as a place to drink kava. Villages also have male- and female-only sections. These sections are situated all over the villages; in nakamals, special spaces are provided for females when they are in their menstruation period.
There are few prominent ni-Vanuatu authors. Women's rights activist Grace Mera Molisa, who died in 2002, achieved international notability as a descriptive poet.